Making a Statement: Five Tips for Writing Your Own Vows
At Marilyn Ambra Party Consultants, we have witnessed hundreds of couples say their "I Do's" and tie the knot. From scripted sayings that are rooted in tradition, to spontaneous and light-hearted words, we have seen all kinds of takes on wedding vows, but we especially love when they are personalized. Whether you're traditional and like to go by the book, or you're looking for ways to add personal flair and romance to your ceremony, your wedding vows are an important part of the day and writing your own can make it all the more memorable. Here are our top five tips for writing your own vows.
Lay the Foundation - While it can be tempting to charge into your vows full speed ahead and write out whatever comes to mind, it is important that you slow down to communicate with your future spouse about the tone, style, and length you would like to guide your vows. Ensure that you agree on the direction and the style of your sentiments so that they flow well on your wedding day.
Write it all out - Find a quiet moment, and get to writing. It can be tempting to rely on memorization, but when it's down to the wire and you're standing in front of hundreds of guests, you will likely want a little something to jog your memory. Beyond the practical reasons, having your vows written out can be a sweet, sentimental memory to hold onto and revisit from time to time. We've even seen couples frame their vows so they become part of the tapestry of their everyday lives.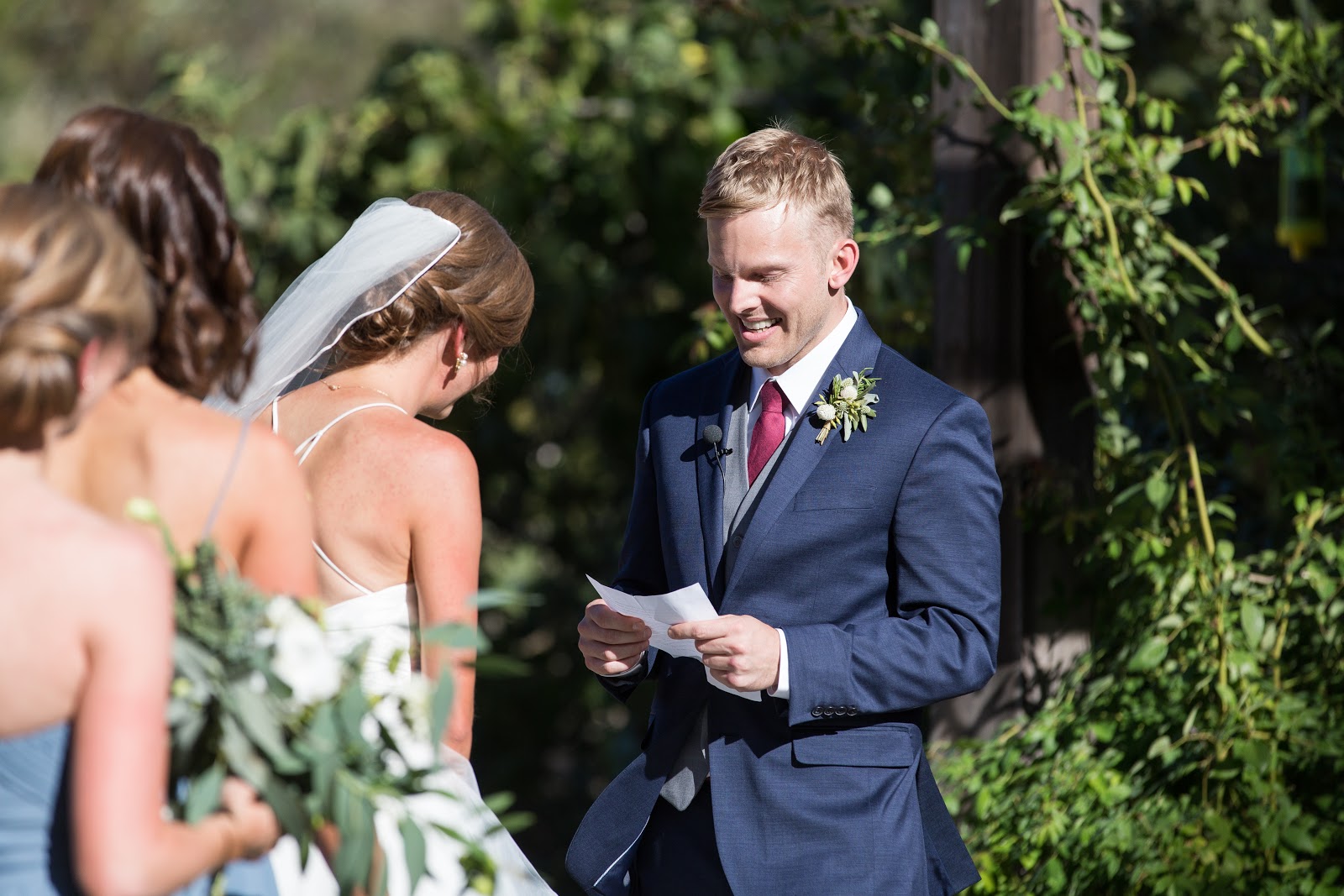 Take a walk down memory lane - Don't be afraid to share your emotions or be sentimental. Start out by referencing a tender moment from the start of your relationship or share a short memory from your first date. Not only will this draw your guests into the love story, it will show your partner how much you truly cherish every moment with them from the origins until now.
Celebrate what compliments - Whether you decide to be sweet or silly, it is important to highlight each other's differences. Maybe you're energetic and he is reserved, or you enjoy doing the shopping while he prefers to make the meals. Whatever it may be, take the time to celebrate and share a little snippet of why you two are the perfect pair.
Dare to daydream - End your vows with a look into the future. Share what excites you with a smile as you look into the days ahead and promise to be there for your spouse, in sickness and in health, for better or for worse. It will seal your sentiments with a ring of hope and leave everyone in the crowd beaming from ear to ear.